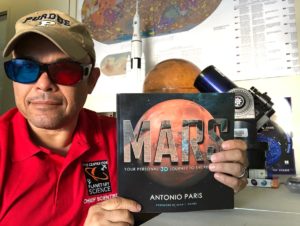 In today's episode we speak with speak with Dr. Antonio Paris! Dr. Paris is the Chief Scientist at the Center for Planetary Science, an Assistant Professor of Astronomy and Astrophysics at St. Petersburg College, FL, and a graduate of the NASA Mars Education Program at the Mars Space Flight Center, Arizona State University
In this interview, Ron and Antonio discuss his passion for Mars, his time studying at the NASA Mars Education program, his recent paper on using the lava tubes of Mars as human habitats, his newest book "MARS: Your Personal 3-D Journey," and much, MUCH more!
Link to listen to our interview on Apple Podcasts (Formerly iTunes): RPR 28: Dr Antonio Paris
Or Listen here:
Today's host is Ron Sparkman, Founder of Stardom, Chief Curiosity Correspondent for Space Foundation Discovery Center, and Co-Creator of I Love Mars.
The show and its contents are presented by The Mars Society and co-produced with I Love Mars Media.
Find out more at: Marssociety.org and www.ILoveMars.info