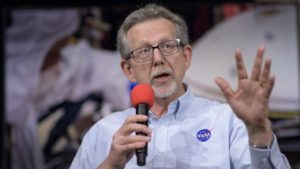 In today's episode we speak with Dr. Jim Green, NASA'S Chief Scientist!
In this interview, Ron and Jim discuss Jim's job as NASA's Chief Scientist, getting back to the moon in 2024, the Lunar Gateway, SLS's recent milestones, what finding life on Mars will mean for humanity, Mars 2020 rover, Curiosity's discovery of Methane, the Mars Sample Return mission, and more!
More on Dr. Green: "From 1985 to 1992 he was the Head of the National Space Science Data Center (NSSDC) at Goddard Space Flight Center (GSFC). The NSSDC is NASA's largest space science data archive. In 1992 he became the Chief of the Space Science Data Operations Office until 2005 when he became the Chief of the Science Proposal Support Office. While at GSFC, Dr. Green was also co-investigator and the Deputy Project Scientist on the Imager for Magnetopause-to-Aurora Global Exploration (IMAGE) mission. From 1992 to 2000 he was also the Deputy Project Scientist for Mission Operations and Data Analysis for the Global Geospace Science Missions WIND and POLAR. He has written over 110 scientific articles in referred journals involving various aspects of the Earth's and Jupiter's magnetospheres and over 50 technical articles on various aspects of data systems and computer networks.
From August 2006 to April 2018 Dr. Green was the Director of the Planetary Science Division at NASA Headquarters. Under his leadership several missions have been successfully executed, including the New Horizons spacecraft flyby of Pluto, the MESSENGER spacecraft to Mercury, the Juno spacecraft to Jupiter, the Grail spacecraft to the Moon, the Dawn spacecraft to Vesta and Ceres, and the landing of the Curiosity rover on Mars just to name a few."
Find out more about Dr. Green right here!
Link to listen to our interview in iTunes: RPR 26: Dr Jim Green
Or Listen here:
Today's host is Ron Sparkman, Founder of Stardom, Chief Curiosity Correspondent for Space Foundation Discovery Center, and Co-Creator of I Love Mars.
The show and its contents are presented by The Mars Society and co-produced with I Love Mars Media.
Find out more at: Marssociety.org and www.ILoveMars.info